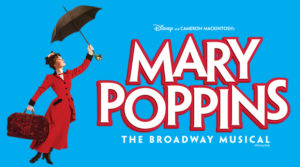 November 17 – 19, 2017
Musical based on the stories of P.L. Travers
and the Walt Disney Film
Original Music and Lyrics by
Richard M. Sherman and Robert B. Sherman
Book by
Doug Wright
New Songs and Music and Lyrics by
George Stiles and Anthony Drewe
Co-Created by
Cameron Mackintosh
Director – Meg Dussault
Music Director – Linda Barbieri
Orchestra Director – Esther Zabinski

Performances:
Friday, November 17, 2017, 7:30 pm
Saturday, November 18, 2017, 2:00 pm
Saturday, November 18, 2017, 7:30 pm
Sunday, November 19, 2017, 2:00 pm
Daytime School Performances:
Thursday, November 16, 2017
Location:
Orpheum Theatre
One School Street
Foxboro, MA

Pre-Sale Tickets:
Adults $22
Students/Seniors (65+) $17
Tickets will be available to purchase in early October
Tickets Purchased at the Door:
Adults $25
Students/Seniors $20

The Un-Common Theatre Company begins our 38th season with our Fall Production of the classic tale – Disney's Mary Poppins.
The jack-of-all trades, Bert, introduces us to England in 1910 and the troubled Banks family. Young Jane and Michael have sent many a nanny packing before Mary Poppins arrives on their doorstep. Using a combination of magic and common sense, she must teach the family members how to value each other again. Mary Poppins takes the children on many magical and memorable adventures, but Jane and Michael aren't the only ones upon whom she has a profound effect. Even grown-ups can learn a lesson or two from the nanny who advises that "Anything can happen if you let it."
Schedule your audition today and be part of bringing Disney's Mary Poppins to life on stage. Join us as we share this magical story and its many unforgettable characters and songs.
Auditions will be held at the Orpheum Theatre, One School Street, Foxboro, MA for students in Grades 2 through 12 on Sunday, September 10th, from 1:00 to 4:00pm BY APPOINTMENT ONLY. Callbacks will be held at 6:00pm. All roles are available. To make an appointment, email auditions@uncommontheatre.org please provide your name, grade, age, e-mail address and telephone number. A representative from The Un-Common Theatre Company will contact you with an appointment time and more information.
For those who are out of practice or would like to improve their auditioning skills, Un-Common is also offering an Audition Workshop, taught byDisney's Mary Poppins creative team of Meg Dussault and Linda Barbieri. This Audition Workshop is being held on Wednesday, September 6th, from 7:00 to 8:30 PM at Qualters Middle School in Mansfield, MA. Please email auditions@uncommontheatre.org to register.
Visit the Auditions page for Audition Workshop and Auditions information.
Disney's Mary Poppins is presented through special arrangement with Music Theatre International (MTI).